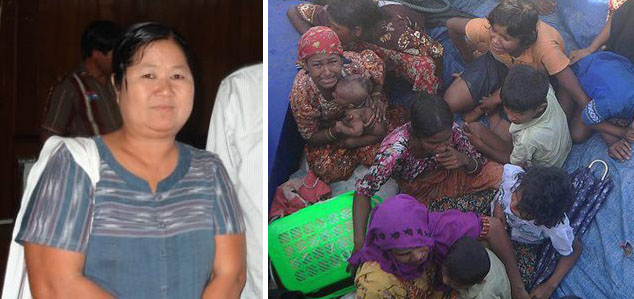 FREE POLITICAL PRISONERS IN
BURMA/ MYANMAR NOW !
To: Mr. Eamon Gilmore, Minister for Foreign Affairs & Trade
Dear Mr. Gilmore
In partnership with Burma Action Ireland, we are writing to express our concern that the Burmese government is continuing to arrest farmers, activists, human rights defenders, and ethnic minorities. This is despite the Burmese government's claim that all political prisoners/prisoners of conscience were to be released by the end of December 2013.
The release of hundreds of political prisoners in the past three years has been long overdue and is very welcome. However, many individuals have been granted conditional amnesty only and hundreds more are currently being processed by Burma's courts or detained without charges. Even those who are fortunate enough to be recognised as political prisoners and subsequently released are subject to intimidation and re-arrest.
For example, Naw Ohn Hla, arrested in August 2013 for organizing peaceful protests against government abuses at the Letpadaung copper mine, was granted amnesty in November 2013. She had been previously arrested in 2009 and granted amnesty in 2011. On December 10, 2013, less than one month after her second high-profile release, she was re-arrested and charged with offences dating back to 2007.
Notably, Naw Ohn Hla and all other political prisoners have been released only conditionally. Conditional releases mean that individuals can be re-arrested at any time if the government decides they have violated the terms of their parole. Individuals who are re-arrested and re-sentenced are subject to serve both their new sentence and the remainder of their previous sentence.
Many of those being arrested are from the Rohingya and Kachin ethnic groups. Exact numbers of ethnic political prisoners are difficult to verify. Approximately 1,000 Rohingya were detained in Arakan State following the outbreak of violence in June 2012. Most remain in prison, though at least 68 died in custody before December 2012. The hundreds of detained Rohingya who have been charged and convicted have faced great discrimination, and have been denied due process – legal representation, definite sentences and trials. Many are likely to be innocent.
We urge the Irish government to take action at EU level to request that the Burmese government:
1. Release unconditionally all political prisoners immediately.
2. Ensure that all prisoners, in particular Kachin and Rohingya detainees, receive proper due process rights, legal representation, and trial opportunities in accordance with international law.
3. Establish a permanent independent political prisoner review mechanism involving international expertise, with the power to accept submissions and independently investigate cases and with the power to make recommendations to the government and Parliament.
Thank you for your consideration of these recommendations. We hope that you can act promptly to support the process of the full and transparent release of all political prisoners in Burma and the implementation of much-needed legal reform.
All signed petitions are sent directly to the Minister at tanaiste@dfa.ie
Burma/Myanmar Petition
This petition is now closed.
End date: May 31, 2014
Signatures collected: 125
Signature goal: 500
Number of Signatures: 125
Latest Signatures
125
Kent Castelo
Dublin
Ireland
May 22, 2014
124
nabeel mirza
dublin
Ireland
May 22, 2014
123
Jason Moore
Dublin
Ireland
May 22, 2014
122
Patrick Moran
Dublin
Dublin
May 22, 2014
121
Marlena Karkosa
Dublin
May 22, 2014
120
Theresa Kleineck
Mesquite
USA
May 21, 2014
119
Brindusa Luminita Cimpan
Gura Humorului
Romania
May 13, 2014
118
Eugene Barrett
Dublin
Ireland
May 13, 2014
117
Melanie Morris
Atlanta
USA
May 13, 2014
116
Shofique Islam
Dublin
Ireland
May 12, 2014
115
Ramona Lionti
Gura Humorului
Romania
May 11, 2014
114
Danijela Zuletović
Sarajevo
BiH
May 08, 2014
113
Khloe Dempsey
Dublin
Ireland
May 08, 2014
112
Melissa Barnes
Ireland
May 08, 2014
111
aoife keogh
dublin
Ireland
May 08, 2014
110
Ben Mallon
Dublin
Ireland
May 08, 2014
109
Aisling McSweeney
Celbridge
Ireland
May 08, 2014
108
sorcha carr
Kildare
Ireland
May 08, 2014
107
Claire Kennedy
Kildare
Ireland
May 08, 2014
106
Katie O'Reilly
May 08, 2014
105
michaela dunphy
dublin
Ireland
May 08, 2014
104
Nadine Carrig
dublin
May 08, 2014
103
Oana Urzica
Gura Humorului
Romania
May 07, 2014
102
Morosan Alina
Gura Humorului
Romania
May 07, 2014
101
Laura Moreno
Caracas
Venezuela
May 06, 2014
100
A D
Raleigh
US
May 06, 2014
99
Kayleigh Dowling
Dublin
Ireland
May 06, 2014
98
Jayne O Reilly
Dublin
Ireland
May 06, 2014
97
kaitlyne lambert
dublin
Ireland
May 06, 2014
96
Suzanne Carberry
Dublin
Ireland
May 06, 2014
95
Erica Foster
Dublin
Ireland
May 06, 2014
94
Weronika Nowak
Poznan
Poland
May 06, 2014
93
Shannon Barry
Dublin
Ireland
May 06, 2014
92
Erika Rollo
Dublin
Ireland
May 06, 2014
91
Nadene Doherty
dublin
Ireland
May 06, 2014
90
Shauna Connaughton
Dublin
Ireland
May 06, 2014
89
caoimhe monks
Dublin
Ireland
May 06, 2014
88
Shauna Shelley
Dublin
Ireland
May 06, 2014
87
Jessica Dunne
Dublin
Ireland
May 06, 2014
86
Lauren Redmond
Dublin
Ireland
May 06, 2014
85
Jasmine Doran
Dublin
Ireland
May 06, 2014
84
Sarah Wren
Dublin
Ireland
May 06, 2014
83
yasmin dirir
dublin
Ireland
May 06, 2014
82
Gemma O' Gorman
Dublin
Ireland
May 06, 2014
81
zoe flood
dublin
Ireland
May 06, 2014
80
Michaela Kearney
Dublin
Ireland
May 06, 2014
79
Mikaela Carberry
Dublin
Ireland
May 06, 2014
78
Gwen Kavanagh
Dublin
Ireland
May 06, 2014
77
Malaika Ngwa
Dublin
Ireland
May 06, 2014
76
chelsey murphy
dublin
Ireland
May 06, 2014
< >