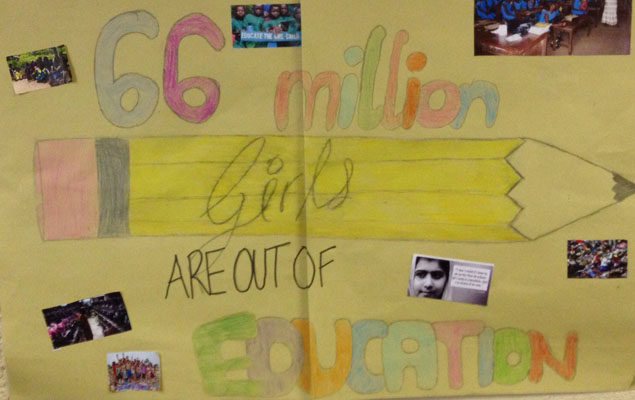 WE CAN DO MORE!
ACT ON THE RIGHT TO EDUCATION
FOR ALL GIRLS
To: Mr. Eamon Gilmore, Minister for Foreign Affairs & Trade
Mr. Joe Costello, Minister of State for Trade and Development
Dear Ministers Gilmore and Costello
66 million girls in the world are out of education and there are 33 million fewer girls than boys in primary school. We realise how important an education is, and of the need to extend it particularly to girls in developing countries, as this empowers and enables them to build a better future for themselves and their children.
A girl with an extra year of education can earn 20% more as an adult, and this has a knock-on effect to the lives and futures of individual girls, their communities and the way that societies function and view women.
Furthermore, the low number of female teachers contributes to the low number of girls in school in rural areas of developing countries. Girls will also benefit from having role models of independent women in their lives and it will be an impetus for them to pursue their own careers.
For these reasons, we feel that educating girls is an important issue.
Millennium Development Goal Number 2 is to Achieve Universal Primary Education by 2015, and last month Minister Costello announced funding of €4.6 million to UN Women, to support programs and policies that help empower women and girls. We applaud the Irish Government for this and as this is such an important issue, we would urge you to continue to work with your UN and EU counterparts in order to give more urgency to the issue of girls in education, so that Millennium Development Goal Number 2 can be met.
Minister Gilmore, you yourself even addressed the UN General Assembly on September 25th 2013 about the need to agree on a new set of measurable, global goals, with a clear commitment to implement them at a national level. As you said, we cannot eradicate poverty without genuinely empowering women and girls. We firmly believe education is the best way to do this.
Change can only happen if influence is exerted by wealthy, developed countries such as Ireland, and we therefore strongly urge you to take action and encourage support for the many movements for change for girls in education globally.
So that girls across the globe can move closer to living in an equal world, we strongly urge you to explicitly address the pressing issue of girls in education at your European meetings and conferences in the coming months and to demonstrate with our partners both in developing countries and in the developed world that real actions are being taken to promote effective change.
All signed petitions are sent directly to the Ministers at tanaiste@dfa.ie and joe.costello@dfa.ie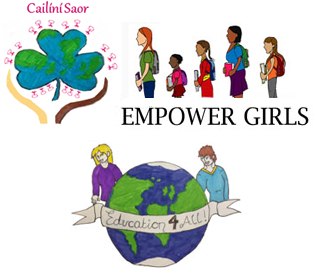 Education for all Girls Petition
This petition is now closed.
End date: May 31, 2014
Signatures collected: 144
Signature goal: 500
Number of Signatures: 144
Latest Signatures
144
Marlena Karkosa
Ireland
May 22, 2014
143
Jason Moore
Dublin
Ireland
May 22, 2014
142
Theresa Kleineck
Mesquite
USA
May 21, 2014
141
Sean Blaney
Dub
Eire
May 16, 2014
140
Brindusa Luminita Cimpan
Gura Humorului
Romania
May 13, 2014
139
Eugene Barrett
Dublin
Ireland
May 13, 2014
138
Murali Rajendran
Dublin
Ireland
May 12, 2014
137
Bernadette Barrett
United States
May 12, 2014
136
Sarah Louise O'Callaghan
Dublin
Ireland
May 12, 2014
135
Ramona Lionti
Gura Humorului
Romania
May 11, 2014
134
Josip Komšo
Kakanj
Bosnia and Herzegovina
May 08, 2014
133
marie Smith
callan
Ireland
May 08, 2014
132
aoife harte
dublin
ireland
May 08, 2014
131
Hannah Small
Celbridge
Ireland
May 08, 2014
130
Danijela Zuletovic
Sarajevo
Sarajevo
May 08, 2014
129
Oana Urzica
Gura Humorului
Romania
May 07, 2014
128
Morosan Alina
Gura Humorului
Romania
May 07, 2014
127
Michaela Kearney
Dublin
Ireland
May 07, 2014
126
Anna Gallagher
Celbridge
Ireland
May 07, 2014
125
Katie Molloy
Kildare
Ireland
May 06, 2014
124
Keri Moore
Dublin
Ireland
May 06, 2014
123
Anna Murphy
May 06, 2014
122
chloe mackey
celbridge
Ireland
May 06, 2014
121
sarah condon
celbridge
Ireland
May 06, 2014
120
emma lee
celbridge
Ireland
May 06, 2014
119
Ciara Geraghty
Ireland
May 06, 2014
118
Lucy Bryan
Kildare
Ireland
May 06, 2014
117
stephanie marsella
May 06, 2014
116
Keri Moore
Dublin
Ireland
May 06, 2014
115
Niamh O'Connor
Kildare
Ireland
May 06, 2014
114
Ellen Carroll
Celbridge
Ireland
May 06, 2014
113
Megan Ellis
kildare
Ireland
May 06, 2014
112
jade wolfe
kildare
Ireland
May 06, 2014
111
Chloe Swords
celbridge
ireland
May 06, 2014
110
sarah kirwan
kildare
Ireland
May 06, 2014
109
Anjolajesu Benson
May 06, 2014
108
Tara Keegan
Kildare
Ireland
May 06, 2014
107
Louise Browne
Dublin
Ireland
May 03, 2014
106
Jessica Tracey
Celbridge
Ireland
May 02, 2014
105
Jake Lyons
May 02, 2014
104
Sarah Roche
Celbridge
Ireland
May 02, 2014
103
Grainne Burke
Dublin
Ireland
May 02, 2014
102
Cecilia Sheehan
Celbridge
Ireland
May 02, 2014
101
aine connell
Togo
May 02, 2014
100
Hannah Lyons
Clane
Ireland
May 02, 2014
99
Aideen Doddy
Kildare
Ireland
May 02, 2014
98
maeve connell
celbridge
Ireland
May 02, 2014
97
Grace Doyle
Celbridge
Ireland
May 02, 2014
96
Aine McGrath
Kildare
Ireland
May 02, 2014
95
Shauna Corry
Kildare
Ireland
May 02, 2014
< >