Location: Banja Luka in Republika Srpska, Bosnia and Herzegovina
Participants: 7 young people (ages 15-18 years)
School website:  www.genesisbl.org  &  www.zdravodaste.org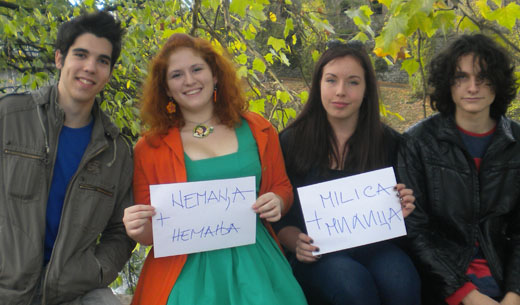 Project Coordinator Ms Dijana Miljatovic:
Genesis Project is local, non-governmental, non-profit humanitarian organization, set up in the city of Banja Luka in June 1996. We help children and teenagers throughout Bosnia and Herzegovina in fulfilling their rights to have free and correct psychophysical development regardless of their religious, ethnic and racial identities while respecting their individual differences and potential.
Our main aims are:
1) To educate children and adults about peaceful conflict prevention and resolution.
2) To educate children and adults about child safety and violence prevention, with goal of injuries prevention.
3) To reduce the negative impact that mines, UXOs (unexploded ordinances) and SALW (small arms and light weapons) have on children and their communities.
Project Coordinator Ms Tanja Boromisa:
Zdravo da ste (Hi Neighbour) is a group of professionals and volunteers based in the city of Banja Luka who help people in need of support of development. We believe that by supporting the development of children, youth and adults that we contribute to development of the community.
Within Zdravo da ste (Hi Neighbour) we have a Youth Centre in Banja Luka where young people meet their peers and our youth workers of our centre every day. Our goal is to give support to the development and social integration of children and youth, especially those from vulnerable groups.
In our Youth Centre, we provide the exchange and free flow of information between young people, and structured and organized free time for children and youth. Young people can spend their free time here and choose from some of the programs we offer: theatre, dance, music, painting or sports (table tennis, volleyball) and other social games. Young people can also get involved in numerous educational activities (such as language or computer courses), spend time with their peers, talk with youth workers in the Centre and simply be a part of their peer group – which is all about self -development. In addition, young people can take part in activities which are aimed at preventing anti-social behaviour or improving of sexual and reproductive health, to give two examples.
Throughout the year our Youth Centre organizes tournaments, picnics, camps, seminars and other activities with the goal of improving life in local community.
1) What does  the term "Global Citizenship" mean to you?
Project Coordinator Ms Dijana Miljatovic:
"Global Citizenship" is opportunity for BiH youth to initiate new contacts and, hopefully, to develop friendships with youth in Ireland. Bosnia and Herzegovina is still pretty much a closed country and the majority of young people have little or very limited knowledge about their peers in other countries. We thing that initiatives like this can help in removing many prejudices and stereotypes which exist at the moment.
Project Coordinator Ms Tanja Boromisa:
Global citizenship is a very important topic nowadays especially in vulnerable territories like ours.
The Concept of global citizenship is a playground to work with children and youth in order to increase their feeling of being citizens with citizens responsibilities, to improve their social skills in order to become active players in the decision making process in their communities but also to respect differences between cultural and subculture groups and to cherish these differences as advantages for building a tolerant society.
Milica, youth participant from Genesis Project:
For me, Global Citizenship is a way of thinking and behaving. It is an outlook on life, a belief that we can make a difference. It's a sense of belonging and responsibility we have to one another.
Ena, youth participant from Zdravo da ste /Hi Neighbour:
When I hear "Global Citizenship" I first think on a relationship between a person and a city or between a state or nation. I also think of a person's right to live, work, learn and to contribute in making important decisions. "Global Citizenship" means to me that an individual isn't confined by the geography or political borders and that all of us, all over the world, connects humanity. It's an idea to look for solutions beyond the vision of national interests.
Ivana, youth participant from Zdravo da ste /Hi Neighbour:
It means a lot to me, because young people should and must have an opportunity to share their experiences and knowledge. That way, we will complete ourselves as full and grown person and we will be able to find our own ways to fight with everyday life.
Luka, youth participant from Zdravo da ste /Hi Neighbour:
As I don't know the correct meaning, "Global Citizenship" is for me a term which defines a set of certain rights, moral rules, obligations and beliefs which refer to people who call themselves "world citizens." World citizens would be the people whose ideology is an ideology of peace, mutual respect and prosperity, tolerance and intellectual advance. The vision is a world without strict boundaries between nations, where everyone can get desired education, and live a hate-free life.
2) Why do you think it's important for young people in Srpska Republika, Bosnia & Herzegovina and in Ireland to engage in an exchange programme like this?
Project Coordinator Ms Dijana Miljatovic:
"Global Citizenship" will help youth in both targeted countries to learn more about countries recent history, about way of life, about problems which youth are facing. For Bosnian youth it will be a step forward to establish contacts with youth from another country since opportunities like this are quite rare.
Project Coordinator Ms Tanja Boromisa:
It is important in terms of intercultural dialogue to break prejudices and stereotypes. Keeping in mind that most of the youth in Bosnia do not have the opportunity to travel, this will be for them a nice possibility to have contact with peers from some other country.
Milica, youth participant from Genesis Project:
It is always important for young people from different countries to connect and share experiences and information among themselves. I think we can learn a lot from each other and achieve a friendship.
Ena, youth participant from Zdravo da ste /Hi Neighbour:
I think that an exchanging program of this kind between two countries is very important because we learn many things for life that we can later use. We meet new people, create unforgettable friendships and learn the way the other is living, the way he's thinking and his view of the world. We realize that we're not so different, that we have the same problems and we can help each other in solving them. It's a beautiful way to expand your horizons, travel, to learn about another's country culture, tradition, history, to learn the language and improve interpersonal relationships.
Ivana, youth participant from Zdravo da ste /Hi Neighbour:
Because we grow up in different countries and have different cultures. Then we have more things and experiences to share than people similar cultures. Besides, we are all young people who want to live their lives getting to know how things elsewhere work, how people elsewhere live and in the end what makes us indeed different.
Luka, youth participant from Zdravo da ste /Hi Neighbour:
It is important not only for young people in Bosnia and Ireland to engage in these kinds of projects, but for young people all around the globe. There is a big lack of knowledge with young people when it comes to cultures other than their own. Especially in Bosnia given the current economic state of the country it is very hard to travel for ordinary people thus kids and young adults are deprived of a very important knowledge which is knowing about how other cultures work, how they live, their traditions and not to mention all the art scattered around the Europe and beyond.
What binds Bosnia and Ireland is the similarity of their political histories. Exchanging views and experiences on these topics could be very interesting. We should not forget that having fun is important: a lot of exchange projects like this one result in long lasting friendships, which is always a good thing.
3) What would you say directly to the young people in our schools network?
Project Coordinator Ms Dijana Miljatovic:
To be good human beings, to respect people regardless for their nationality, ethnic belonging or religious background and to advocate for respect of all human rights!
Project Coordinator Ms Tanja Boromisa:
Probably I would say "HI" ☺ After I would present our youth centre, answer to possible questions but the main actors would be young people who would take part in this programme.
Milica, youth participant from Genesis Project:
I would tell them to be open to new friendships and experiences.
Ena, youth participant from Zdravo da ste /Hi Neighbour:
I would tell them not to be afraid to learn something new, to get to know the unknown. Always be curious and seek for knowledge. Open your mind and heart to other nations because we are all friends. Stay so friendly and positive. You're welcome to Bosnia and Herzegovina. We look forward to our further communication and hope to see you soon.
Ivana, youth participant from Zdravo da ste /Hi Neighbour:
I would say them to be curious. We can have a wish to get to know others better, but if we think it will happen by itself and do nothing about it, we won't get to know even our own land and not to talk about other countries. But I would also say to them that I am a true fan of Ireland. I love and enjoy in Irish music and one of my biggest wishes is to visit Ireland someday.
Luka, youth participant from Zdravo da ste /Hi Neighbour:
Be open-minded and don't be afraid to try something new. Something new doesn't always end up being a good thing but what's important is the experience you gained while doing it. Stay hungry for knowledge and always have fun.