Location: Ballyfermot, Dublin, Ireland
Teacher: Mr. Patrick Moore
Student group:  Transition Year  (age 15-16 years)
School website: www.caritascollege.ie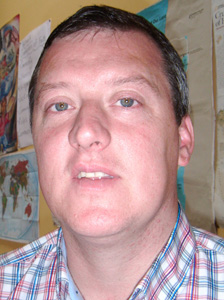 Caritas College is an all girls school in Ballyfermot which is in Dublin, the capital of Ireland. There are just under 300 students in the school. Sport is very popular in the school with the students doing very well in basketball and soccer. The aim of the school is to promote the personal, spiritual, social, educational and vocational potential of its students within the ethos of the Catholic Order of the Daughters of Charity, and so prepare them for their role in society as responsible adults.
What does  the term "Global Citizenship" mean to you?
 The students:
People who get involved in the world. To think about world issues: Poverty, Pollution, War. It involves working together to make the world a better place.
Mr. Moore:
For me this involves being aware of World events. That we look at the bigger picture and see that we are connected on so many levels to the world in which we live. It means the everyday interactions that we have with the wider world community.
2) Why do you think it's important for young people in Ireland to engage in an exchange programme like this?
The students:
To find more information. To learn about their situation. To help them by listening. To show that we care.
Mr. Moore:  
I think it is very important that the voices of young people are  heard. It  involves the students actively learning and sharing their experiences with each other.
3) What would you say directly to the young people in our schools network?
The students:
Its  a great programme to be involved in. How do you feel to be involved in the programme ? For us, it's important to be involved because its good to help others. Do you think the programme will be effective?
 Mr. Moore:
I have been involved in this programme for a number of years ; each year the students who have taken part have really enjoyed their experiences. This is an excellent opportunity to engage with other students and provides a platform for the voices of young people to be heard.
Blog
Caritas Voice
Progress Report 1
ISSUES THEMES 1: GLOBALISATION, DEVELOPMENT, INEQUALITY, INJUSTICE, POWER, CONFLICT
Step 1: Baseline Knowledge
1. How do you define each of the 6 key themes above?
Globalisation  How everyone is connected. Things that effect the whole world. Involvement in world issues. How everyone interacts with the wider world community, nobody is isolated.
Development To make improvements. To grow. To help things move along. To try and solve a countries problems
Inequality Not equal. Not fair. People not being treated the same. Rights not being respected. To be treated differently than others in an unfair way
Injustice Not equal. Not having equal rights. When you don't receive what you are entitled too
Power Being in control. Having authority.Importance. To give instructions and have your orders followed
Conflict  Differences of opinion. Tension. War. Fighting. Flags. Religion

2. Can you give examples of how they are reflected in local issues (in your community and in your country)?
Globalisation Food you eat. Cars you drive
Development  Making our community a better place to live
Inequality Bullying, housing, jobs…
Injustice  Crime, homelessness
Power School, media, work
Conflict School, football, sport, family, friends.

3. Can you give examples of how they are reflected in global issues?
Globalisation  Poverty, pollution, workers rights
Development World hunger,education,war,world population
Inequality World wealth, education, health
Injustice Crime, racism, discrimination, education, poverty
Power World bank, dictatorship, war, land, slavery
Conflict War

Step 2: Researching it further
Facts:  Approx. 7 billion people in the world. Males outnumber females. Most typical person is a 28-year old Chinese man. Right-handed mostly.
Reflections: The amount of water we use each day compared to those in developing countries. We just turn on a tap to get the water we need –for others this is a daily struggle. Students felt surprised and interested to find out more after watching this clip. Saddened to learn how we take everyday things for granted.
Facts: from Living in a Global Dimension-video clip:  We use materials every day which are produced all over the world. We are global citizens and often we don't realise this. A lot of what we wear, eat and use are produced in foreign countries.
Reflections: More aware now of where our clothes, food, phones etc. comes from.
Progress Report 2