Location: Balata Refugee Camp, Nablus, Palestine
Participants: 7 students (ages 15-18 years)
Websites: www.yafacult.ps/ar  and  tfpyaffa.wordpress.com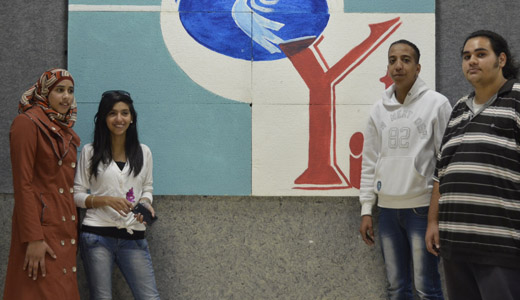 Project Coordinator Mr Abdullah Kharoub:
The Yafa Cultural Center is a non-profit cultural NGO based in our refugee camp which is located near the city of Nablus in the West Bank.  It was formed through an initiative by the Committee for the Defence of Refugee Rights in 1996.  YCC works to improve the cultural and intellectual condition of Palestinians by providing them with a space to develop their talents and skills and to enrich their awareness of their national rights through civic education particularly on democracy and human rights.
This is done  through a wide variety of activities and programs that are designed and implemented by distinguished volunteers with much experience.  Through this work, YCC aims to empower Palestinians to foster a strong and independent identity, and to enable positive accomplishments in the future while giving them a chance to escape from the negative effects of the ongoing Israeli occupation of the Palestinian territories.
Why "Yafa" ? Because most of the refugees in our camp came originally from the city and surrounding villages of Yafa (or Jaffa) which is on the coast. This is where they had to flee from in the 1948 war and this is where they dream of returning to one day.
1) What does "Global Citizenship" mean to you?
Project Coordinator Mr Abdullah Kharoub
It means an exchange of cultures between youth, and it is a chance to create new friendships, and to get new positive ideas to improve our life.
The students:
For us it means the abilities to connect with people and to share our daily life without borders and limits.
2) Why do you think it's important for young people in Palestine and Ireland to engage in an exchange programme like this?
Project Coordinator Mr Abdullah Kharoub:
This is a great opportunity for both sides to learn about similarities and differences, and there are many of both.
The students:
It will be beneficial to share our stories and lifestyle, and to see how other people live and encourage each other.
3) What would you say directly to the young people in our schools network?
Project Coordinator Mr Abdullah Kharoub:
We are so happy to find young friends who can listen to us, and understand our life is different from their life.
The students:
You will see a lot of different things if there will be a chance for you to come to our country.