Location: Sanski Most, Bosnia and Herzegovina
Participants: 8 students (ages 15-18 years)
Group website:  www.unvocim.net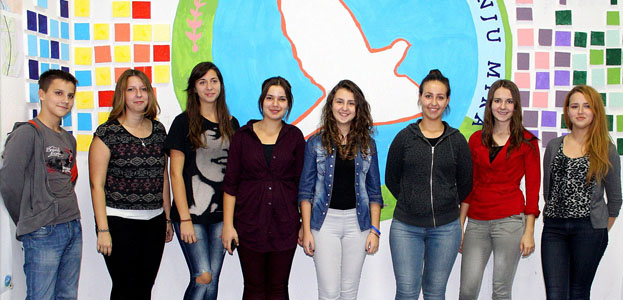 The Center for Peacebuilding (CIM), was founded in 2004 in the town of Sanski Most with the mission of rebuilding trust and fostering reconciliation among the people of Bosnia & Herzegovina, as well as supporting peace processes in other countries. One of CIM's primary goals is to empower Bosnian youth to become agents of change and reconciliation in their own country by equipping them with skills in nonviolent communication, dialogue facilitation and conflict transformation through programs such as our annual interethnic and interreligious Peace Camps, nonviolent communication and conflict transformation workshops in elementary schools and high schools, International Peace Week and International exchanges.
1) What does  the term "Global Citizenship" mean to you?
Project Coordinator Mr. Vahidin Omanovic
Think Globally, Act Locally! We believe that in this highly interdependent world, in order to achieve our ultimate goals of global peace, justice and respect for human rights, change has to start from ourselves and our own local communities.
The youth participants:
Amela
For me "Global Citizenship" means universal citizenship,equality of people,equal chances and perspectives,equal education opportunities for everyone.
Amila
For me 'Global citizen' means that I need to be aware of my own role as a world citizen,that I need to respect diversity,to understand how world works politically,culturally,socially etc. Also to contribute to the community (local and global).
Arnela
For me it is a vision of a world in which people recognize their potential and fulfill their commitment and meet other people involved in the process of positive and sustainable development of their communities at the local and international level.
Lejla
To me global citizenship means a connection between a person and a city, state or nation and their right to work and live in an area.It also defines a person who places their identity as a citizen of a particular nation or place.
Samra
For me "Global Citizenship " presents something like "every person in the world has the same right, no matter what their language, skin color, religion and other"
Sana
Global citizenship means more opportunities because we can go anywhere in the world in search of greater opportunities and higher goals.
2) Why do you think it's important for young people to engage in an exchange programme like this?
Project Coordinator Mr. Vahidin Omanovic
International exchange programmes are unique opportunities for personal growth and professional development because they provide space for self-reflection, as well as an opportunity to share experiences and cultures, thus broadening the perspectives of participants.
The youth participants:
Amela
I think it's important,because that would be a great chance to learn something new about other people and cultures, but in a fun way. And I think that it would be a great chance to show the world how much teenagers actually know, and how much we want to change the world for the better.
Amila
I think that all of us, both youth from Bosnia and Ireland, can take something from this programme. For example meeting new people, learning about different cultures and customs.
Arnela
To start positive social change,to learn something, to experience something new and interesting, to see how other people live, and also to see that we are all the same no matter where we are, and what religion we are!
Lejla
Because I think it's good to learn something new about other cultures,nations,religions so that we can break some of the stereotypes .and i think we can learn a loot about our country,things which we didn't knew. and it's always good to meet new people and i just think its an great opportunity for all of us.
Samra
We will learn new cultures, languages, how to respect other religions, we will meet new friends and we will learn how to share our love to other peoples different from us, and we will give the world a lesson.
Sana
It is important for knowledge sharing, and showing culture to each other learning something new which will certainly contribute to reducing stereotypes about each other.
3) What would you say directly to the young people in our schools network?
Project Coordinator Mr. Vahidin Omanovic
Life is full of unexpected and any experience is valuable, so meeting new people and making friends iis definitely a thing that must be done because you never know when you may need them, not only physically. but for their support or ideas that can be helpful and also beneficial for you. So don't miss any chance and drop every fear!
The youth participants:
Amela
I would say that education is really important. It might be hard,and sometimes we learn about things that are not interesting, but in the end we learn all that for a reason. So what I'm trying to say is that you shouldn't cut school and do your best.
Amila
I would say that we need to be open minded, to accept every opportunity that we have to experience something new, and to take 'safe risks'. Because that is the only way we can accomplish something in our lives and we will always have great memories.
Arnela
To be persistent and not give up, and to learn and go forward, because today in Bosnia we have nothing. I don't want to tell people to go away from Bosnia and seek jobs somewhere else if Bosnia doesn't have any predispositions for youth,but they need to participate in various activities and do something themselves for their future to be better and more stable.
Lejla
I would say that I am really happy and excited to do an exchange program like this.i think it's going to be really interesting and that we are going to learn a lot knew things about them and us.
Petra
Don't waste your life doing things which you don't like at all, or things you won't make use of in your life. You only live once, so do something for yourself, then be proud of your achievements.
Samra
Respect other religions, skin color, culture and others' thinking.